What We Do
The Lincoln Garden Club was founded in 1928 and federated in 1930 with the joint goals of providing community service to the Town and affording members the opportunity to enhance and share their knowledge of such garden-related topics as horticulture, design, conservation, and beautification.
MEETINGS
The Club meets eight times a year, generally on the first Monday of the month.  Meetings commence with Club business, followed by a featured speaker.  Topics include plant materials, gardening tips, landscaping, conservation, unusual and spectacular gardens, and flower arranging demonstrations.  Refreshments are provided by teams of Club members.  Meetings are generally for Club members only, with one or two each year open to all Town residents.
COMMUNITY SERVICE
The Lincoln Garden Club considers service a cornerstone of its programs and prides itself on its many service projects.  Members are expected to participate in one or more of these activities on a regular basis.
Station Park and Watering Troughs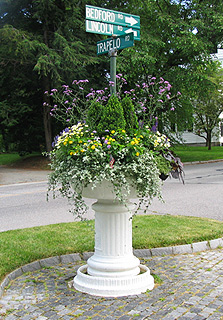 The small park on Lincoln Road across from the mall and owned by the Town has been maintained and enhanced by the Club since 1972.  It is one of the Club's most important projects.  The park includes flowering shrubs and perennials cared for by members.  Members are encouraged to join the morning work sessions occurring bi-weekly during the growing season.
The Club also maintains the old watering troughs located at the five corners and at the intersection of Codman and Lincoln Roads.  Volunteers change the plant material according to the season and make certain it is well watered.
Mission for Cheer
Twice a year, in December and spring, Club members arrange and deliver flowers and plants to senior citizens who are ill, confined to their homes or have recently lost a family member.
Flowers at the Library
Club members provide weekly flower arrangements for the front desk at the library, a welcome sight for towns-people on a snowy or rainy day.
Lincoln's Roadsides Project
The award winning report and website by the Roadside Committee of the Club are designed to raise awareness of the need to protect and maintain the rural and historic character of Lincoln's roadsides.  See www.lincolnroadsides.org for more information.
Other Services Around Town
Members decorate the Pierce House and Bemis Hall at the holiday season. In addition, the Club has donated several benches and trash barrels for Pierce Park.
Members create table arrangements for Senior Dining, a monthly gourmet meal sponsored by Lincoln's Council on Aging.
The Club has been working with conservation organizations on issues such as the identification and control of invasive plant species.
WORKSHOPS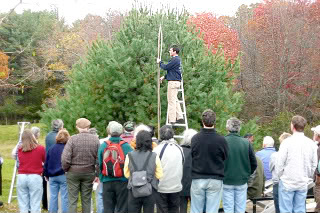 The Club sponsors town-wide workshops.  Recent examples are Good Pruning Practices and Stone Walls: Maintenance and Construction.  Several additional workshops are held each year for Club members only, covering varied topics such as flower arranging, garden journals, plant propagation, soil testing, raised bed gardening and making tufa containers.
DAY TRIPS
Club members carpool for horticultural outings to seasonal destinations such as Garden in the Woods, White Flower Farm and Bedrock Gardens.
BIENNIAL PLANT SALE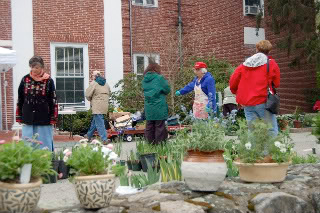 The Club holds a plant sale every other May, a popular event open to the public.  Members donate perennials and shrubs from their gardens, which are sold along with annuals and vegetable seedlings. Members of the Club are on hand to give advice and share gardening tips.
On alternate years, the Club holds a special event aimed at raising funds for its community service activities.
EXHIBITIONS
Members participate in the Art in Bloom at the Museum of Fine Arts and the Boston Flower Show by using their talents to create imaginative arrangements for these events.
For questions or more information, please contact us.