Join Us
Anyone interested in joining the Lincoln Garden Club is encouraged to attend one or two meetings to learn more about the Club's activities and meet the members. New members are welcome to join at any time during the year. 
The annual dues are $40.00. Please use the Contact link if you have any questions about Membership or Club activities. Scroll down if you would like to complete the Membership form.
Why Become a Member?
The Lincoln Garden Club offers beginners or experts the opportunity to increase and/or share their knowledge of horticulture and design and participate in community service.
Meetings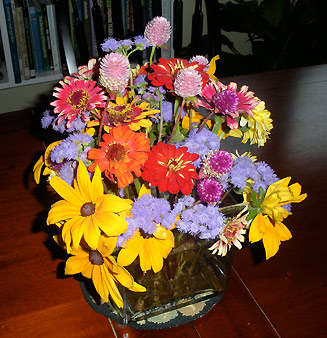 Monthly meetings, held the first Monday, feature programs on diverse gardening and landscaping topics as well as conservation and environmental issues. An opportunity to socialize and enjoy light refreshments precedes the business meeting and program. Once a year Lincoln residents are invited to an evening program of town-wide interest.
Workshops on horticultural topics and flower arranging are offered periodically. Members go on field trips to sites of interest in the area and participate in the Art in Bloom at the Museum of Fine Arts.
Benefits:
An opportunity to attend monthly meetings to hear interesting speakers.
Participate in club activities, such as field trips, tours of member's gardens, and workshops.
Opportunity to participate in community projects such as maintaining Station Park and Garden Troughs, Mission for Cheer, Library Flowers, Senior Dining.
Receive a membership book containing information about members and upcoming programs.
Responsibilities:
Volunteer to help with fundraising events.
Help to host monthly meetings once every 2 years.
Support Club activities.
For questions or more information, please contact us.
If you're interested in learning about the process for becoming a new member, please read our New Prospective Member Process Document here: Process-for-Prospective-Member 10-2-15
If you would like to submit a membership application you can complete our online membership application below.
Online membership form: