Station Park
Station Park Native Plant List
Station Park Native Plant Care and Maintenance
Installation of native plant bed at Station Park, Fall 2015
Station Park Transformed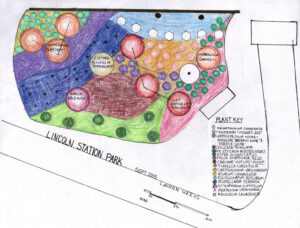 The public was invited to attend a Talk on Native Plants on Saturday, October 17, 2015 at 2pm at Lincoln Station Park when New England Wildflower Society (NEWFS) intern Lauren Weeks, who designed the bed, gave a short talk and answer questions about native plants at the Park.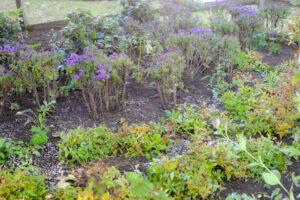 The Lincoln Garden Club created and installed the flowerbed with over 400 plants native to Massachusetts at Station Park. "This native plant bed is a great example of how we can apply more sustainable landscaping practices at our homes without giving up on beauty. A choice of plants will bring different colors to Station Park at every season," says the Club's co-President Belinda Gingrich. "Also, native plants attract pollinators, such as insects, birds and mammals, restoring nature to a more heathy state," adds co-President Agnes Wiggin.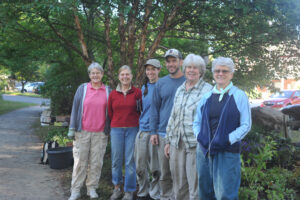 The Lincoln Garden Club paid for the project with donations from people who supported the LGC Garden Tour in June. Cathy Moritz coordinated the newly designed and planted park. Installation was made possible through the combined efforts of Club members, NEWFS staff, students and teachers from the Minuteman Technical Institute, and the Town of Lincoln.
Station Park is owned by the Town of Lincoln and maintained by the Lincoln Garden Club. Located at the intersection of Lincoln and Ridge Roads, across from the shopping mall, the Park provides a restful place for people passing by or taking a break from their jobs or errands.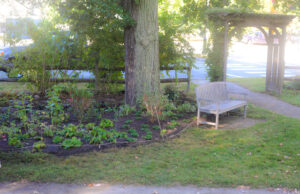 The transfer of the existing plants, the design of the new bed and its installation was done throughout July, August and September. The pdf's of the Design and List of Native Plants are available by clicking on the words.  Lauren Weeks wrote a Plant by Plant Maintenance Plan that Club members will use in the future, when caring for the bed as it grows. Thank you to Daniela for the photos.